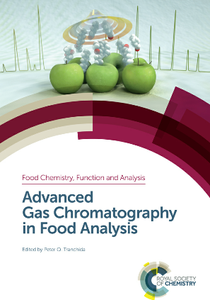 Advanced Gas Chromatography in Food Analysis
by Peter Q. Tranchida
English | 2020 | ISBN: 1788011279 | 479 Pages | ePUB | 15 MB
Gas chromatography is widely used in applications involving food analysis. Typical applications pertain to the quantitative and/or qualitative analysis of food composition, natural products, food additives, and flavour and aroma components. Providing an up-to-date look at the significant advances in the technology, this book includes details on novel sample preparation processes; conventional, high-speed multidimensional gas chromatography systems, including preparative instrumentation; gas chromatography–olfactometry principles; and, finally, chemometrics principles and applications in food analysis.
Aimed at providing the food researcher or analyst with detailed analytical information related to advanced gas chromatography technologies, this book is suitable for professionals and postgraduate students learning about the technique in the food industry and research.
If you want to support my blog, then you can buy a premium account through any of my files (i.e. on the download page of my book). In this case, I get a percent of sale and can continue to delight you with new books!