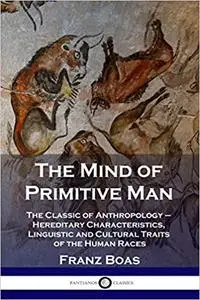 Franz Boas, "The Mind of Primitive Man: The Classic of Anthropology - Hereditary Characteristics, Linguistic and Cultural Traits of the Huma"
English | 1911 | ISBN: 1789873126, 1297549104 | 172 pages | PDF | 13.9 MB
In this landmark text of anthropology, Franz Boas profiles various groups of primitive peoples, analyzing their hereditary characteristics, morphology, language and cultures.
Brimming with incisive analysis and fascinating interpretations of early man, Boas begins by acknowledging the sheer diversity of peoples in the world. The variation in language, physical appearance, cultural mores and traditions are extraordinary, with differing behavioral standards and practices unique to each. Though dealing with a formidable subject of global scope, the author proceeds with determination and intellectual rigor, demonstrating how geographic disparity, variations in climate, and divergent psychology resulted in distinct cultures.
Famous for challenging existing views, including those of eugenics and white supremacy, The Mind of Primitive Man became a foundational text of modern anthropologic science. Its well-argued topics, rooted in the author's voracious study and experience, contradicted existing theories and assumptions of nature versus nurture, and the relationship between environment and human intelligence. For his part, Boas held out hope that anthropology would form a role in education, increasing tolerance for the differences between cultures, and acknowledgement of the value all have contributed.