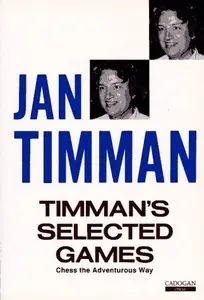 Jan Timman, "Timman's Selected Games: Chess the Adventurous Way"
Cadogan Books | 1996 | ISBN: 1857441214 | 256 pages | Djvu | 6,5 MB
It is not always the games with the best chess that leave behind the strongest memories. On the contrary, sometimes a break in the logical line of thought in a game results in a maze of chaotic complications and is the ingredient which gives the game its distinctive flavour. Occasionally, a dramatic defeat is more interesting than a straightforward victory.
This selection of 80 games gives a picture of the fighting chess I have always championed. Many of these date from the period 1985-1990, when I was the only player from outside the then Soviet Union who consistently challenged the Soviet hegemony in the world championship cycle and the race for the world championship.
The crucial fourth game against Karpov in Kuala Lumpur, which more or less concludes this period, is analyzed very extensively, especially the fascinating final phase and my ninth game against Short in San Lorenzo 1993 — a roughly equally important game in the final of the next cycle — is also featured.
My games against Yusupov, Bugojno 1986, my 6th match game against Ivanchuk, Hilversum 1991, and the final game of the world championship
match against Karpov, Jakarta 1993, have all been freshly annotated.
All other games, with comments, were previously published in Schaakbulletin or New in Chess Magazine. Where necessary I have made corrections and
added new analyses.
JanTimman
Download