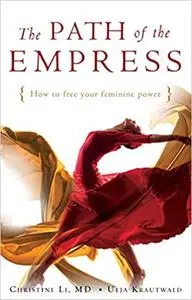 Christine Li, Ulja Krautwald, "The Path of the Empress: How to Free Your Feminine Power"
English | 2015 | ISBN: 1925017516 | 224 pages | EPUB | 0.92 MB
The Path of the Empress explores the feminine power of transformation and how women can harness their power and sexuality.
Over a thousand years ago the concubine Wu Zhao became China's most powerful woman. Her intelligence and erotic aura, combined with her knowledge of the art of war, led her to become empress - and the only woman who ever officially ruled ancient China. Her faithful adviser was the wise shaman and doctor Sun Simiao, guardian of age-old secrets of feminine wisdom and power.
Inspired by Wu Zhao and ancient Chinese texts, The Path of the Empress describes the ten important stages of a woman's life, and focuses on exercises and magical herbal elixirs that open up the mind and soul to new insights and solutions.
A classic in Europe, the book has become a favorite gift chosen by women to give to the women in their family and to their female friends and colleagues.