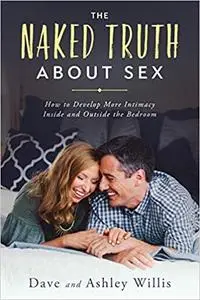 Dave Willis, Ashley Willis, "The Naked Truth About Sex: How to Develop More Intimacy Inside and Outside the Bedroom"
ISBN: 1950113051 | 2019 | EPUB | 174 pages | 419 KB
From Dave and Ashley Willis, Authors of
The Naked Marriage
We all have questions and insecurities about sex, so why is it so hard to talk about it? With biblical wisdom, vulnerability and groundbreaking honesty, Dave and Ashley Willis address the most common yet often unspoken questions about sex. From the practical basics about sex in marriage to the deeper issues of addiction and dysfunction, they'll show you how to have the sex life you've always wanted.
Praise for Dave and Ashley Willis
Dave and Ashley's ministry has benefited me greatly. They strive to apply God's truth in an uncompromising and yet grace-based manner. If I see they're behind it, I know it's worth my time hearing what they have to say. I know I'll be challenged, inspired and motivated to keep Jesus at the center of my marriage."
-Gary Thomas, Bestselling author of "Sacred Marriage" and "Cherish"
"If you want a better sex life and a stronger marriage, then read this book! It will make an instant impact."
-Brent Evans, Founder of XO Marriage
"Dave and Ashley Willis have become some of the nation's most trusted voices on issues related to marriage. They're the real deal. Their insights are Biblically-based and incredibly practical. Their ministry can make a huge impact in your marriage and your family."
-Chris Brown, Dave Ramsey Team Speaker, Financial Coach, Pastor and Podcaster.
"In our marriage and sex confused culture, we're missing the voice of leaders who speak with biblical and practical truth. In The Naked Marriage, Dave and Ashley Willis provide exactly what couples need to help them grow in their marriage and in sexual and emotional intimacy. They don't shy away from the hard topics and will help many couples with the Q&A format of this new book."
Scott Kedersha, Director of Marriage Ministry, Watermark Community Church, ScottKedersha.com