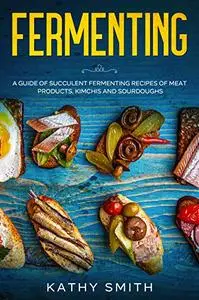 Kathy Smith, "Fermenting: A Guide of Succulent Fermenting Recipes of Meat Products, Kimchi and Sourdough"
English | 2020 | ASIN: B08KTXH66V | 190 pages | EPUB | 13.3 MB
Have you always wanted to try fermenting at home? Did you always want to ferment meat at home? Or make kimchi and sourdough? Well, if you answered yes to the questions, then you have come to the right place. This book is a treasure trove of recipes you can use to ferment meat, kimchi, and sourdough.
The world has been introduced to different types of food through the process of fermentation. Now that you can ferment food at home, you can make delicious probiotic food in your kitchen! This book gives you a brief overview of the process of fermentation and leaves you with tips you can use while you experiment with fermentation at home. Over the course of the book, you will gather information about:
● Fermentation and the process
● Benefits of fermentation
● Tips to help you ferment kimchi, meat, and sourdough
● Mouthwatering and simple recipes, including recipes to ferment meat and vegetables
● Sourdough breakfast, snack and dessert recipes, and so much more.
The tips mentioned in the book will help you get started with the process of fermentation, and also help you overcome some common problems people face during fermentation. It is important to bear in mind that the process of fermentation only has the best results when you stick to the instructions.
You must use the right ingredients, the correct proportions, and also leave the ingredients in the room at the right temperature. Otherwise, you will end up with a spoiled product. There is a possibility that the ingredients may release toxins if the fermentation process does not happen correctly, and this can lead to food poisoning.
This book is an invaluable guide and will help you enjoy the flavors and benefits of fermented meat, vegetables, and bread, and unleash your fermenting skills. So, what are you waiting for? Grab a copy of this book now!