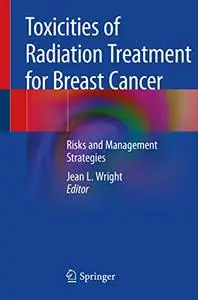 Jean L. Wright, "Toxicities of Radiation Treatment for Breast Cancer: Risks and Management Strategies"
English | 2019 | ISBN: 3030116190 | PDF | pages: 206 | 3.4 mb
This book is a comprehensive guide to breast toxicity. Adjuvant radiation remains standard for a majority of women who undergo breast-conserving surgery for breast cancer, and indications for post-mastectomy and regional lymph node irradiation have also broadened with recent publications.  At the same time, locoregional recurrence has declined and survival has improved in recent decades.  In the current era of excellent breast cancer outcomes, then, considering the balance between toxicity and outcomes becomes paramount.  Several recent editorials recommend considering toxicity against the potential benefit of adjuvant radiation in tailoring radiation decisions for individual patients.  Thus, a clear understanding of the potential toxicities of adjuvant radiation for breast cancer is critical to optimizing outcomes in modern breast cancer management.  Here, authors have collected recent data focused on toxicity of treatment that provide an opportunity for improving this optimization. Chapters cover both acute and late toxicity of radiation for breast cancer, including tailored risk assessment for each of these potential toxicities, considerations for including risk of toxicity in management decisions, and toxicity management strategies. This is an ideal guide for radiation oncologists, residents, and oncologists seeking to optimize care for their patients.