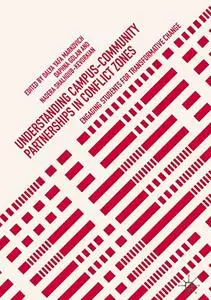 Dalya Yafa Markovich, Daphna Golan, Nadera Shalhoub-Kevorkian, "Understanding Campus-Community Partnerships in Conflict Zones: Engaging Students for Transformative Change"
English | 2019 | ISBN: 3030137805 | PDF | pages: 322 | 3.2 mb
This book explores the opportunities and limitations of campus-community partnerships in Israel. In a conflict-ridden society with a struggling civic culture, the chapters examine partnerships at ten academic institutions, focusing on the micro-processes through which these partnerships work from the perspectives of students, NGOs, and disadvantaged communities. The editors and contributors analyse the range of strategies and cultural repertoires used to construct, maintain, negotiate and resist the various partnerships. Evaluating the various challenges raised by campus-community partnerships exposes the institutional and epistemological divides between academia and the community, and thus offers valuable insights into the ways partnerships can contribute to transformative change in conflict zones. This book will be of interest and value to researchers and students of campus-community partnerships as well as the anthropology of inclusion-exclusion and civic culture.