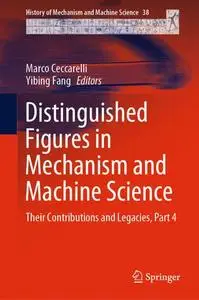 Distinguished Figures in Mechanism and Machine Science: Their Contributions and Legacies, Part 4 by Marco Ceccarelli
English | PDF | 2020 | 175 Pages | ISBN : 3030323978 | 10.52 MB
This book discusses technological developments by distinguished figures in the history of MMS (mechanism and machine science). It includes biographies of well-known scientists, describing their efforts, experiences and achievements and offering a modern interpretation of their legacy.
This volume includes scientists from a wide range of time periods, academic disciplines, and geographical backgrounds, such as Giovanni Bianchi, Homer, Taqi Al-Din, Jacques de Vaucanson, Ma Jun, Xu Baosheng, Alexander Alexandrovich Golovin, Francesco di Giorgio and Cesare Rossi.
Covering a wide range of figures within the field of history of mechanical engineering, with a particular focus on MMS, this fourth volume is of interest to, and will inspire the work (historical or not) of many.
i will be very grateful when you

support

me and buy Or Renew Your Premium from my Blog links
i appreciate your

support

Too much as it will help me to post more and more