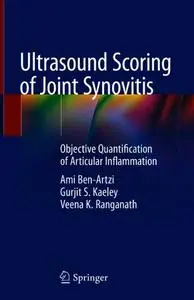 Ultrasound Scoring of Joint Synovitis: Objective Quantification of Articular Inflammation by Ami Ben-Artzi

English | PDF | 2021 | 217 Pages | ISBN : 3030432718 | 36.9 MB
A common manifestation of many autoimmune diseases is joint inflammation. The degree of inflammation of the joints is often used as a metric of disease activity. Assessing disease activity has diagnostic, therapeutic, and prognostic implications. Inflammation of the joints is often used as a proxy for inflammation in other tissue, and assessing this inflammation has implications for the health of numerous organs in in the body.
Currently, physicians use palpation of joints to assess for joint inflammation. This method, while accessible and easy to apply, is lacking in precision. Ultrasound has also been used to assess for joint inflammation for over 20 years, but applying ultrasound technology has proved challenging. There is lack of agreement on optimal joint view, which joints should be examined in which disease, and how inflammation should be graded. Various scanning protocols and grading schemes have been proposed, but each has its strengths and weaknesses.
Ultrasound Scoring of Joint Synovitis is based off the work of three authors who tackled the limitations of contemporary inflammation scoring systems, and developed an ultrasound-based inflammation scoring system which can be applied with consistency and reproducibility. In their research, the authors scanned thousands of joints and spent thousands of hours discussing the scans. They produced a scoring system which will allow the user of the atlas to grade joint inflammation in a way that is less subjective and more reproducible than the current systems used. Objective descriptions allow the user to quantify sonographic signs of joint inflammation with an intentional bias for the more clinically relevant features of ultrasound pathology. For students of musculoskeletal ultrasound, the book offers detailed descriptions of the sonographic appearance of every level of joint inflammation. For researchers, the book, and the system laid out in the book, are truly state-of-the-art and will enable better precision in research and clinical care of patients with joint inflammation.
Please Please :( We Are Here For You And Without You And Your

Support

We Can't Continue
Thanks For Buying Premium From My Links For

Support
i will be very grateful when you

support

me and buy Or Renew Your Premium from my Blog links
i appreciate your

support

Too much as it will help me to post more and moreWithout You And Your

Support

We Can't Continue
Thanks For Buying Premium From My Links For

Support