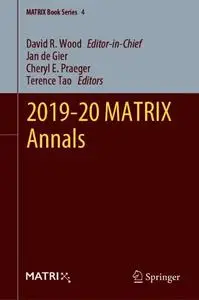 2019-20 MATRIX Annals by David R. Wood (Editor-in-Chief)
English | PDF | 2021 | 795 Pages | ISBN : 303062496X | 22.6 MB
MATRIX is Australia's international and residential mathematical research institute. It facilitates new collaborations and mathematical advances through intensive residential research programs, each 1-4 weeks in duration. This book is a scientific record of the ten programs held at MATRIX in 2019 and the two programs held in January 2020:
· Topology of Manifolds: Interactions Between High and Low Dimensions
· Australian-German Workshop on Differential Geometry in the Large
· Aperiodic Order meets Number Theory
· Ergodic Theory, Diophantine Approximation and Related Topics
· Influencing Public Health Policy with Data-informed Mathematical Models of Infectious Diseases
· International Workshop on Spatial Statistics
· Mathematics of Physiological Rhythms
· Conservation Laws, Interfaces and Mixing
· Structural Graph Theory Downunder
· Tropical Geometry and Mirror Symmetry
· Early Career Researchers Workshop on Geometric Analysis and PDEs
· Harmonic Analysis and Dispersive PDEs: Problems and Progress
The articles are grouped into peer-reviewed contributions and other contributions. The peer-reviewed articles present original results or reviews on a topic related to the MATRIX program; the remaining contributions are predominantly lecture notes or short articles based on talks or activities at MATRIX.
Please Please :( We Are Here For You And Without You And Your

Support

We Can't Continue
Thanks For Buying Premium From My Links For

Support
i will be very grateful when you

support

me and buy Or Renew Your Premium from my Blog links
i appreciate your

support

Too much as it will help me to post more and moreWithout You And Your

Support

We Can't Continue
Thanks For Buying Premium From My Links For

Support