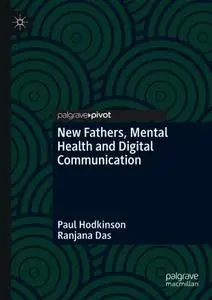 New Fathers, Mental Health and Digital Communication by Paul Hodkinson
English | PDF,EPUB | 2021 | 148 Pages | ISBN : 3030664813 | 2 MB
"Carefully balanced, and written in an engaging accessible style, this excellent book offers academics, students, and practitioners deep insights and potential routes forward in tackling a pressing issue."
—Steve Roberts, Monash University, Australia
"New Fathers, Mental Health and Digital Communication offers nuanced insights into how fathers use digital communication to deal with mental health difficulties. This book will be of interest to anyone concerned with mental health, parenthood, and digital communication."
—Rikke Andreassen, Roskilde University, Denmark
"This excellent new book is a very welcome and timely addition to the still limited evidence base regarding how we need to support fathers' mental health."
—Andrew Mayers, Bournemouth University, UK
This book explores the experiences of new fathers struggling with mental health difficulties and focuses on the role of digital media as part of their approaches to coping. Hodkinson and Das show how the ways new fathers are positioned by society can make it hard for them to recognize their struggles as legitimate, or reach out for help. The book explores a range of different uses of digital communication by struggling fathers, from selective forms of disconnection, to the seeking out of online information or support. The authors highlight the significance even of the smallest digital acts as part of coping journeys and outline the development of tentative or hidden attempts to reach out for help, and the potential for supportive digital interactions to emerge. The book's conclusions highlight the agentic possibilities digital media might offer for struggling new fathers, while emphasizing the need for improvements in how they are prepared and supported by health services and others.
Paul Hodkinson is Reader in Sociology at the University of Surrey, UK. His research encompasses fathers and fatherhood, youth cultures, and the role of digital media in contemporary societies.
Dr Ranjana Das is Reader in Media and Communication at the University of Surrey, UK. She researches uses and consequences of communication technologies, with a recent focus on parenthood. She explores what the digital turn has meant for new mothers in her latest book: Early Motherhood in Digital Societies (2019).
Please Please :( We Are Here For You And Without You And Your

Support

We Can't Continue
Thanks For Buying Premium From My Links For

Support
i will be very grateful when you

support

me and buy Or Renew Your Premium from my Blog links
i appreciate your

support

Too much as it will help me to post more and moreWithout You And Your

Support

We Can't Continue
Thanks For Buying Premium From My Links For

Support