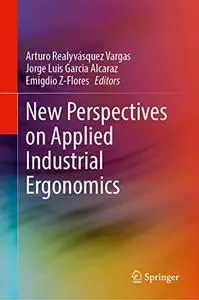 New Perspectives on Applied Industrial Ergonomics by Arturo Realyvásquez Vargas
English | PDF,EPUB | 2021 | 327 Pages | ISBN : 3030734676 | 49.4 MB
This book reports the most recent, advanced, successful, and real applications of ergonomics in order to improve the human well-being and performance in a short term, as well as the organizational performance in a long term. The book is organized as follows:
Physical Ergonomics. This section reports case studies where physical risk factors are presented in the workplace, such as physical risk factors including uncomfortable body postures, repetitive movements, force application, manual material handling, and physical environmental conditions. In addition, case studies must report applications from physical ergonomics methods, for instance, RULA, REBA, OWAS, NIOSH, JSI, Suzane Rodgers, ERIN, among others.
Cognitive Ergonomics. This section reports the implementation of ergonomic tools, techniques, and methods in real case studies. These applications are aimed to know, decrease, and control cognitive and psychological risk factors, such as mental workload, information processing, situation awareness, human error identification, and interface analysis. These applications may include the following methods NASA-TLX, SWAT, CWA, SHERPA, HET, TAFEI, SAGAT, SART, SACRI, QUIS, SUMI, to mention a few of them.
Macro-ergonomics. This section is focused on the analysis, design, and evaluation of work systems. It reports case studies where risk factors are beyond a specific workstation. These risk factors may include supervision styles, teamwork management, task variety, social relationships, organizational culture, organizational communication, technology, work schedules, and motivation, among others. In addition, case studies report the application of macro-ergonomic methods, such as MOQS, focus group, participatory ergonomics, HITOP, MAS, and MEAD, among others.
Please Please :( We Are Here For You And Without You And Your

Support

We Can't Continue
Thanks For Buying Premium From My Links For

Support
i will be very grateful when you

support

me and buy Or Renew Your Premium from my Blog links
i appreciate your

support

Too much as it will help me to post more and moreWithout You And Your

Support

We Can't Continue
Thanks For Buying Premium From My Links For

Support