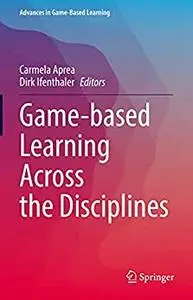 Game-based Learning Across the Disciplines (Advances in Game-Based Learning)
English | 2021 | ISBN: 3030751414 | 427 Pages | PDF EPUB | 35 MB
The volume focuses on epistemological, theoretical and empirical issues of game-based learning in various disciplines. It encompasses questions of game design as well as instructional integration and organizational implementation of game-based learning across various disciplines and includes contributions from different levels of the formal educational system (i.e., primary, secondary and tertiary education) as well as contributions reporting the use of game-based learning in informal learning settings. The volume addresses scholars, practitioners and students who are interested in how games and game-based learning can be designed, implemented and evaluated in a cross-, inter- and transdisciplinary perspective.