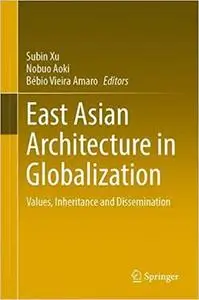 East Asian Architecture in Globalization: Values, Inheritance and Dissemination by Subin Xu

English | PDF | 2021 | 634 Pages | ISBN : 3030759369 | 155.7 MB
This book collects a selected list of peer-reviewed papers presented at EAAC 2017, International Conference on East Asian Architectural Culture, the leading conference on architectural history and built heritage conservation in the East Asia region.
While centered around the core issue of globalization and its complex effects on East Asian architectural cultures, the selected papers were arranged into four major sub-topics: Historical & Theoretical Research; Conservation Methodology & Technology; Adaptive Reuse; and Community Design. All together, this collection showcases the most recent disciplinary developments in East Asian countries, as well as the main concerns and prospects of leading practitioners. The wide range of contributions and perspectives included here in English language for a global audience should be of considerable appeal to all scholars and professionals in the fields of architectural and urban design, history of the built environment, and heritage conservation policies and methods.
Dear Visitors,
When You Buy Premium Account From Icerbox From Any Of My Blog Files, I Will Get percentage From Icerbox Not You
So Your Support For Me Will come Without Loosing Anything And I Keep Posting For You
Thanks For Your Support.