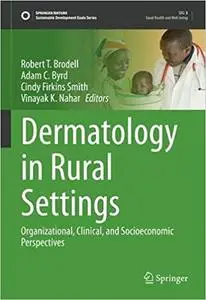 Dermatology in Rural Settings: Organizational, Clinical, and Socioeconomic Perspectives by Robert T. Brodell
English | PDF,EPUB | 2021 | 208 Pages | ISBN : 3030759830 | 14.8 MB
This book addresses the maldistribution of health care between people in dense cities and more rural areas. This proactive resource provides solutions that will motivate dermatologists to make a difference, including free rural clinics and incentives to attract dermatologists to the aforementioned areas.
Comprehensive yet concise, the book encompasses not only the logistics of the healthcare issues, including location, incentive, and set up of facility but includes insight into the effectiveness of teledermatology, a practice more commonly utilized due to the COVID-19 Pandemic. Additionally, chapters examine the relationship between economic viability and quality of care, as well as government incentives and political action to mitigate this issue.
Unique and timely, Dermatology in Rural Settings is an invaluable resource for dermatologists, resident dermatologists, and academic physicians interested in rural and urban health.​