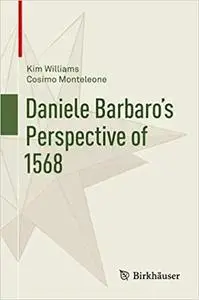 Daniele Barbaro's Perspective of 1568 by Kim Williams
English | PDF | 2021 | 404 Pages | ISBN : 3030766861 | 100.2 MB
A year after the second edition of his famous translation and commentary on Vitruvius, Daniele Barbaro published The Practice of Perspective, a text he had begun working on many years before. Barbaro was the first to publish a formal treatise entirely dedicated to the science of geometric perspective. In an informal style especially addressed to practicing artists and architects, Barbaro begins by drawing on and expanding the manuscript treatise of Piero della Francesca with regards to basics of perspective constructions for representing three-dimensional solids on two-dimensional media, and then goes on to show that perspective is a particularly suitable instrument for other scientific and artistic applications as well, including cartography, cosmology, stage set design, and anamorphosis.
Here for the first time Barbaro's The Practice of Perspective is made available to contemporary scholars in an English translation, augmented by annotations relating the printed treatise to the three unpublished manuscripts in Italian and Latin of the work now conserved in Venice's Biblioteca Nazionale Marciana.
A foreword by Philip Steadman sets the stage for this book. In-depth essays by authors Kim Williams and Cosimo Monteleone situate the treatise within the editorial panorama of the Cinquecento, outline the innovations that Barbaro brought to the study of perspective, and focus particularly on his creative explorations of geometric solids and the construction of clocks.
Sometimes dismissed in recent studies as a compilation of known principles, the aim of this present book is to reveal the truly innovative nature of Barbaro's experiments and results and restore him to his rightful place as an original scholar of Renaissance perspective theory.