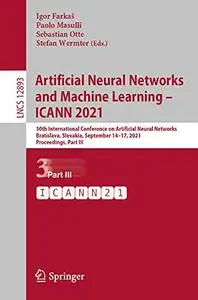 Artificial Neural Networks and Machine Learning – ICANN 2021: 30th International Conference on Artificial Neural Networks, Bratislava, Slovakia, September 14–17, 2021, Proceedings, Part III by Igor Farkaš
English | PDF | 2021 | 708 Pages | ISBN : 3030863646 | 87.7 MB
The proceedings set LNCS 12891, LNCS 12892, LNCS 12893, LNCS 12894 and LNCS 12895 constitute the proceedings of the 30th International Conference on Artificial Neural Networks, ICANN 2021, held in Bratislava, Slovakia, in September 2021.* The total of 265 full papers presented in these proceedings was carefully reviewed and selected from 496 submissions, and organized in 5 volumes.
In this volume, the papers focus on topics such as generative neural networks, graph neural networks, hierarchical and ensemble models, human pose estimation, image processing, image segmentation, knowledge distillation, and medical image processing.
*The conference was held online 2021 due to the COVID-19 pandemic.