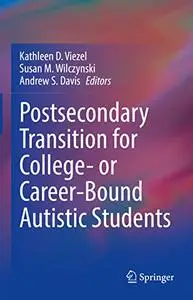 Postsecondary Transition for College- or Career-Bound Autistic Students by Kathleen D. Viezel
English | EPUB | 2022 | 288 Pages | ISBN : 3030939464 | 2.6 MB
This book examines issues relating to postsecondary transition from high school to college or competitive vocational settings for Autistic adolescents and young adults. It details the intervention and consultation services essential to prepare students for postsecondary life. The volume addresses the academic, social, self-regulation, and self-sufficiency skills that adolescents and young adults must develop to ensure a successful transition from high school to college and workplace. It focuses on the role of school psychologists in supporting Autistic students as they enter adulthood but is also relevant across numerous disciplines.
Key topics addressed include:
Using cognitive and neuropsychological assessment results to inform consultation about college entrance and vocational activities.
Evaluating and strengthening academic skills for older Autistic adolescents who plan to enter college or workforce.
Helping Autistic students increase their use of social, coping, and behavioral skills.
Strengthening Autistic students' use of self-management and self-sufficiency skills needed to independently perform required tasks in college and the workplace.
Selecting an appropriate college and accessing available supports that match student needs.
Assisting Autistic students and their families in accessing available services and developing skills that improve employment outcomes.
Postsecondary Transition for College- or Career-Bound Autistic Students is a must-have resource for researchers, professors, and graduate students as well as clinicians and other professionals in clinical child and school psychology, special education, social work, developmental psychology, behavioral therapy/rehabilitation, child and adolescent psychiatry, and all interrelated disciplines.
Without You And Your

Support

We Can't Continue
Thanks For Buying Premium From My Links For

Support