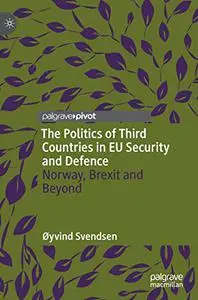 The Politics of Third Countries in EU Security and Defence: Norway, Brexit and Beyond by Øyvind Svendsen

English | EPUB | 2022 | 83 Pages | ISBN : 303100938X | 0.2 MB
"This timely, short yet comprehensive volume offers a unique perspective on the evolving relations between the EU, Norway and the United Kingdom in the field of Security and Defence. An absolute must-read for both researchers and practitioners working on this moving target".
-Benjamin Leruth, Assistant Professor, University of Groningen, the Netherlands
This book examines security and defence cooperation between the EU and third countries, in particular the United Kingdom and Norway. Brexit has placed the question of third-party engagement firmly back in the spotlight, especially given the UK's significance as a security and defence actor, and the failure of both sides to agree terms for cooperation in this area. The book explains why the seemingly obvious need for cooperation and shared strategic interests alone does not lead to frictionless cooperation or integration between the EU and like-minded third countries. Adding a theoretical and conceptual depth to what is still largely an empirical topic, it draws important conclusions about the possibilities and limits of European security and defence cooperation during challenging times. It also raises key questions about the nature and suitability of the pre-existing security and defence architecture in Europe, and the place of non-EU members within it. The book will appeal to academics and students interested in European politics, EU security, and security and defence studies.
i will be very grateful when you

Support

me and buy Or Renew Your Premium from my Blog links
i appreciate your

Support

Too much as it will help me to post more and more

Visit My Blog For Daily Very Exclusive Content,We Are Here For You And Without You And Your

Support

We Can't Continue Thanks For Buying Premium From My Links For

Support