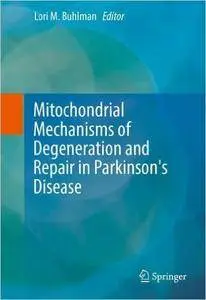 Mitochondrial Mechanisms of Degeneration and Repair in Parkinson's Disease by Lori M. Buhlman
English | 2016 | ISBN: 3319421379 | 275 pages | PDF | 7,7 MB
This volume brings together various theories of how aberrations in mitochondrial function and morphology contribute to neurodegeneration in idiopathic and familial forms of Parkinson's disease. Moreover, it comprehensively reviews the current search for therapies, and proposes how molecules are involved in specific functions as attractive therapeutic targets. It is expected to facilitate critical thought and discussion about the fundamental aspects of neurodegeneration in Parkinson's disease and foster the development of therapeutic strategies among researchers and graduate students. Theories of idiopathic Parkinson's etiology support roles for chronic inflammation and exposure to heavy metals or pesticides. Interestingly, as this project proposes, a case can be made that abnormalities in mitochondrial morphology and function are at the core of each of these theories. In fact, the most common approach to the generation of animal and cell-culture models of idiopathic Parkinson's disease involves exposure to mitochondrial toxins. Even more compelling is the fact that most familial patients harbor genetic mutations that cause disruptions in normal mitochondrial morphology and function. While there remains to be no effective treatment for Parkinson's disease, efforts to postpone, prevent and "cure" onset mitochondrial aberrations and neurodegeneration associated with Parkinson's disease in various models are encouraging. While only about ten percent of Parkinson's patients inherit disease-causing mutations, discovering common mechanisms by which familial forms of Parkinson's disease manifest will likely shed light on the pathophysiology of the more common idiopathic form and provide insight to the general process of neurodegeneration, thus revealing therapeutic targets that will become more and more accessible as technology improves.