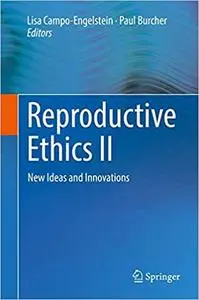 Lisa Campo-Engelstein, Paul Burcher, "Reproductive Ethics II: New Ideas and Innovations"
English | 2018 | pages: 193 | ISBN: 3319894285 | PDF | 2,4 mb
This book is the second collection of essays on reproductive ethics from Drs. Campo-Engelstein and Burcher. This volume is unique in that it is both timely and includes several essays on new technologies, while also being a comprehensive review of most of the major questions in the field, from racial disparities in reproductive healthcare to gene editing and the possibility of the creation of a transhuman species. The scholars writing these essays are pre-eminent in their fields, and their backgrounds are quite varied, including philosophers, anthropologists, physicians, and professors of law.
Reproductive ethics remains an underdeveloped area of bioethics despite the recent technological breakthroughs that carry both great promise and potential threats. Building on the first volume of work from a conference held just over one year ago, this new collection of essays from a conference held April 2017 continues this discussion as well as provides ethical insights and reviews of these emerging technologies. The ethical questions swirling around human reproduction are both old and new, but the conference presentations, and the essays derived from them, focus on new ways of appreciating old arguments such as the ethics of abortion, as well as new ways of seeing new technologies such as CRISPR and mitochondrial transfer. 
My Link