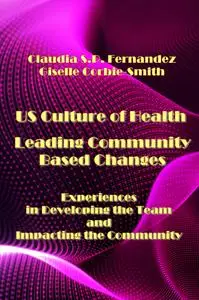 "US Culture of Health Leading Community Based Changes: Experiences in Developing the Team and Impacting the Community" ed. by Claudia S.P. Fernandez, Giselle Corbie-Smith
ITexLi | 2021 | ISBN: 1803551534 9781803551531 1803551550 9781803551555 1803551542 9781803551548 | 277 pages | PDF | 20 MB
In this volume, you will learn how Clinical Scholars and Culture of Health Leaders programs curated and measured the successful learning and development of these dedicated health-equity advocates. In each chapter of this book, the authors share how they tackled seemingly intractable issues, making headway through applying the principles of adaptive leadership in unbounded systems to create not only outcomes but also impacts on health disparities and, in some cases, sustainable and scalable applications.