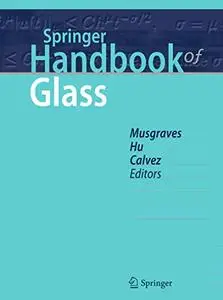 Springer Handbook of Glass by J. David Musgraves
English | EPUB | 2019 | 1841 Pages | ISBN : 331993726X | 446.8 MB
This handbook provides comprehensive treatment of the current state of glass science from the leading experts in the field. Opening with an enlightening contribution on the history of glass, the volume is then divided into eight parts.
The first part covers fundamental properties, from the current understanding of the thermodynamics of the amorphous state, kinetics, and linear and nonlinear optical properties through colors, photosensitivity, and chemical durability. The second part provides dedicated chapters on each individual glass type, covering traditional systems like silicates and other oxide systems, as well as novel hybrid amorphous materials and spin glasses. The third part features detailed descriptions of modern characterization techniques for understanding this complex state of matter. The fourth part covers modeling, from first-principles calculations through molecular dynamics simulations, and statistical modeling. The fifth part presents a range of laboratory and industrial glass processing methods. The remaining parts cover a wide and representative range of applications areas from optics and photonics through environment, energy, architecture, and sensing.
Written by the leading international experts in the field, the Springer Handbook of Glass represents an invaluable resource for graduate students through academic and industry researchers working in photonics, optoelectronics, materials science, energy, architecture, and more.