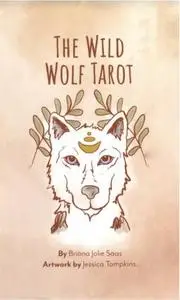 Briöna Jolie Saas, Jessica Tompkins, "The Wild Wolf Tarot Guidebook"
English | 2021 | ASIN: N/A | EPUB / AZW3 | 19.9 MB
(Guidebook only)
The Wild Wolf Tarot™ is a 78 card Tarot deck surrounding the beauty and nature of wolves. This deck helps you connect to your intuition and instincts by working with the spirit of wolf. Minimalist, natural, hand-drawn imagery with beautiful wolf archetypes that will make you howl with excitement.
The Wolf Suits
THE HUNTERS 🌿 (pentacles)
THE CARETAKERS 💧 (cups)
THE LEADERS 🔥 (wands)
THE WATCHERS 🌬 (swords)
Details:
-78 CARDS: Full Color, 350 gsm art paper, matte lamination for both sides
-2 PART BOX: Full Color, fit the size of 78 cards +1 booklet, matte lamination
- 1 BOOKLET: Matte color laminated cover, 108 pgs , black & white inside, mini guidebook will fit inside the box with your cards.
After a successful campaign on Kickstarter, this deck is now completely funded and ready to order. This is the official page on Etsy for Wild Wolf Tarot™ all other listings may be subject to trademark infringement.