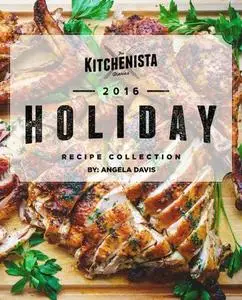 Angela Davis, The Kitchenista, "The Kitchenista Diaries Holiday Recipe Collection"
English | 2016 | ASIN: N/A | 90 pages | AZW3 / EPUB / MOBI / PDF | 43.9 MB
The Kitchenista Diaries Holiday Recipe Collection
Holiday recipes to unleash your inner kitchenista.
My holiday recipe collection includes over **45 recipes** that will have you covered for a traditional Thanksgiving dinner, cooked from scratch! This digital cookbook features alternatives for Christmas dinner and will carry you well into the winter holiday season. Most of the recipes are also adaptable for Sunday dinners throughout the year.
Tutorials include:
-Spatchcocked Roasted Turkey
-Smoked Turkey
-Glazed Ham
-Mac & Cheese
-Dressing
-Greens
-Yams
-Mashed Potatoes
-Stuffed Mushrooms
-Butternut Squash Soup
-Sweet Potato Pie
…and all other kinds of spice blends, starters, side dishes, main dishes and desserts to make your holidays complete. Every recipe includes proper cookware suggestions.