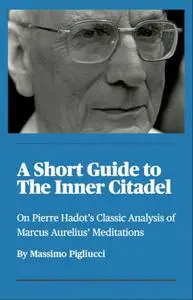 Massimo Pigliucci, "A Short Guide to the Inner Citadel: On Pierre Hadot's Classic Analysis of Marcus Aurelius' Meditations"
English | 2021 | ASIN: N/A | EPUB | 1 MB
Pierre Hadot's The Inner Citadel is a classic of modern Stoicism and a must read for anyone seriously interested in the philosophies of Marcus Aurelius and of the thinker who influenced him the most, Epictetus. This publication emerged out of an intensive three-day workshop I taught on Hadot's book and represents an attempt to introduce readers to what is otherwise a fairly technical and lengthy treatment. Nevertheless, please take what you are about to read as an invitation and a guide to actually reading Hadot, not just as self-sufficient Cliffs Notes. Enjoy, study, and practice.