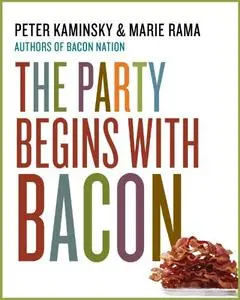 Peter Kaminsky, Marie Rama, "The Party Begins with Bacon"
English | 2013 | ASIN: B00GW9CQ5U | 62 pages | EPUB | 2 MB
Between Thanksgiving and the Super Bowl, it's party season in America. During these months, many of us invite friends and family into our homes to celebrate with foods that entertain, satisfy, and impress. Great appetizers can help break the ice and jumpstart a party. In The Party Begins with Bacon, bacon masters Peter Kaminsky and Marie Rama have selected fifteen fabulous party recipes from Bacon Nation to kick off your next great gathering. Because, honestly, who doesn't love party starters that rely on the tantalizing sweet, salty, meaty, smoky tastes of bacon?