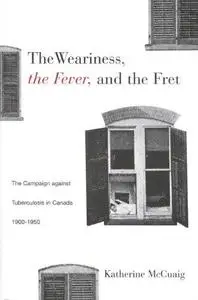 The Weariness, the Fever, and the Fret: The Campaign against Tuberculosis in Canada, 1900-1950 By Katherine McCuaig
1999 | 416 Pages | ISBN: 0773518339 | PDF | 27 MB
In The Weariness, the Fever, and the Fret Katherine McCuaig takes an in-depth look at the campaign against TB, from its beginnings as part of the turn-of-the-century urban social reform movement to the 1950s and the discovery of antibiotics that could cure it. Although the bacillus that causes it had been discovered in 1882, at the turn of the century TB was, as Osler observed, "a social disease with a medical aspect." With "fresh air, good food, good houses, and hope" as the only available treatment, fighting the disease meant not only eliminating the germ but attacking the underlying social problems that predisposed an individual to disease - alcoholism and poor living and working conditions. By the end of World War I the bacteriological approach had become dominant, with federally expanded sanatoria, increasing provincial involvement and responsibility, and more sophisticated technology to diagnose and treat the disease. The campaign against TB not only influenced the way in which health services were established and the division of responsibility among various levels of government and volunteers but profoundly affected attitudes toward the political and economic development of Canadian health care and the ultimate demand for medicare. Drawing on sources ranging from government reports and archival material to more general North American social and political historical research, McCuaig demonstrates how TB was viewed and how it was controlled, which owed as much to changing attitudes in society as to bacteriological discoveries.