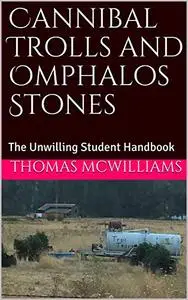 Thomas McWilliams, "Cannibal Trolls and Omphalos Stones: The Unwilling Student Handbook"
English | 2020 | ASIN: B084KMN59P | 116 pages | EPUB | 1.6 MB
Learn effective techniques based on proven principles for wrecking bullshit in any context.
From bad teachers to telemarketers, bad faith negotiators and other dishonest communication abound. They are the sand in the gears of civilization. Some folks say online trolls are deliberately scuttling our public forums to make people think free discussion has no purpose. But the primary purpose of debate has always been debunking nonsense and making bullshitters go away. Aristotle invented the study of a logic to decode the lies of politicians, and this handbook continues that worthy tradition in the Gonzo Journalism style of Hunter S. Thompson.
Learn effective methods to identify, expose and shut them down, or even teach them better; this book contains a comprehensive theory based on well-tested principles of psychology and sociology as well as tactics for disempowering manipulators of every kind, including the toxic narcissists, sociopaths and psychopaths (narcopaths) who use the internet as primal scream therapy.
Copyright includes your option to copy individual arguments and explanations for non-commercial purposes in piecemeal format to aid your own efforts with "the mission."