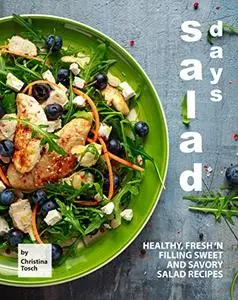 Christina Tosch, "Salad Days: Healthy, Fresh 'n Filling Sweet and Savory Salad Recipes"
English | 2020 | ASIN: B08DG1SY53 | 96 pages | EPUB | 3.8 MB
From old-time sweet favorites such as Watergate salad and classic Ambrosia to juicy chicken with fresh blueberries and homemade lemon yogurt dressing sweet and savory salads have never tasted so good.
Salads are easy to make and a great way to include lots of vitamins and minerals to your family's diet. What's more, by using nuts, seeds, and beans, you can add protein, fiber, and healthy fats to mealtimes.
Are you looking for inspiration? Then it's time to choose from the best 40 sweet and savory salad recipes including:
• Banana Split Salad
• Cherry Walnut Fluff Salad
• Creamy Grape Salad
• Crispy Lamb Salad
• Falafel Salad with Creamy Feta Dressing
• Kung Po Chicken Salad
• Peach and Bacon Salad with Mustard Dressing
• Summer Garden Chickpea Salad
Whether you are looking for a main meal, side dish, or dessert, it's time to say goodbye to pre-prepared, store-bought bags of the same old salads. Instead, create healthy, fresh sweet and savory salad recipes.