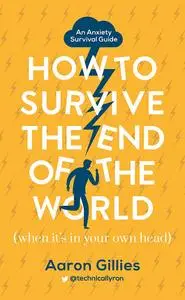 How to Survive the End of the World (When it's in Your Own Head): An Anxiety Survival Guide
English | 2018 | ISBN: 1473659698 | 288 pages | True EPUB | 421 KB
There are plenty of books out there on how to survive a zombie apocalypse, all-out nuclear war, or Armageddon. But what happens when it feels like the world is ending every single time you wake up? That's what having anxiety is like - and How to Survive the End of the World is here to help. Or at least make you feel like you're not so alone. From helping readers identify the enemy, to safeguarding the vulnerable areas of their lives, Aaron Gillies will examine the impact of anxiety, and give readers some tools to fight back - whether with medication, therapy, CBT, coping techniques, or simply with a dark sense of humour.