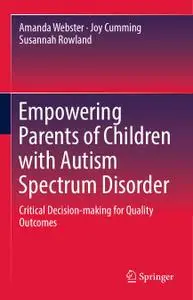 Empowering Parents of Children with Autism Spectrum Disorder: Critical Decision-making for Quality Outcomes By Amanda Webster, Joy Cumming, Susannah Rowland

English | PDF | 258 Pages | 2017 | ISBN : 9811020825 | 5.94 MB
This book presents an international research-based framework that has empowered parents of children with autism spectrum disorder (ASD) to become critical decision makers to actively guide their child's learning and self-advocacy.
Parents can use this framework to identify their child's vision and dreams, and to work with educators and service providers to establish specific learning goals and to implement effective interventions and programs that enable their child to achieve those goals and realise their vision for the future.
The book begins by reviewing available research on evidence-based practice for children with ASD and outlining the Cycle of Learning decision-making framework for parents and professionals. Throughout the remainder of the book, case studies are presented to illustrate the ways in which different parents have successfully utilised this framework to develop effective plans for their child and to advocate for learning and education programs for both their child and other children with ASD in school and community settings. In addition, it highlights concrete examples of how parents have used the framework to empower their children with ASD to develop their self-awareness and self-determination, and to be able to self-advocate as they move through adolescence and into adult life.
Please Please :( We Are Here For You And Without You And Your

Support

We Can't Continue
Thanks For Buying Premium From My Links For

Support
i will be very grateful when you

support

me and buy Or Renew Your Premium from my Blog links
i appreciate your

support

Too much as it will help me to post more and moreWithout You And Your

Support

We Can't Continue
Thanks For Buying Premium From My Links For

Support