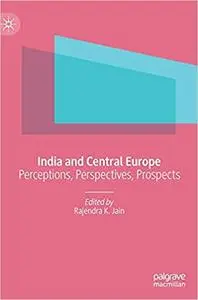 India and Central Europe: Perceptions, Perspectives, Prospects by Rajendra K. Jain
English | PDF,EPUB | 2021 | 472 Pages | ISBN : 9811628491 | 7.3 MB
This book explores the transformation of India's relations with Central and Eastern Europe from being a subset of Indo-Soviet relations during the Cold War to the rediscovery and rebuilding of relations with the region almost from scratch in the post-Cold War era. It examines how the combination of Brexit, the rise of China and India's expanding geo-economic interests in Europe has led the Narendra Modi government to contemplate relations with Central Europe through a more strategic lens and treat the region as an autonomous element within India's foreign policy rather than a footnote of its relations with other great powers.
Fulfilling a long-felt gap in existing literature, this volume examines India's political, economic, investment, defence and cultural relations with the Visegrad Four (the Czech Republic, Hungary, Poland and Slovakia). It analyzes Indian perceptions of Central Europe and explores prospects of New Delhi's political and economic engagement with the region.
The painstakingly compiled appendices on the exchange of bilateral visits and agreements between India and the Visegrad Four would be of immense use as a handy reference to scholars, policy-makers, and other interested persons and institutions.
Rajendra K. Jain was formerly Professor and Chairperson at the Centre for European Studies, and Director, Europe Area Studies Programme, Jawaharlal Nehru University, New Delhi, India. He was formerly Visiting Humboldt Foundation Professor at Constance (1992-1993), Freiburg, Leipzig and Tübingen universities as well as Visiting Professor at the Maison des Sciences de l'Homme, Paris, Warsaw, the Asia-Europe Institute, University of Malaya, ICCR Professor of Contemporary India at Leuven University, and Adjunct Professor, Monash European and EU Studies Centre, Monash University. He has been the first Jean Monnet Chair in India and has most recently published India, Europe Asia (Palgrave, 2021), India and the European Union in a Turbulent World (Palgrave, 2020), and Changing Indian Images of the European Union: Perception and Misperception (Palgrave, 2019).