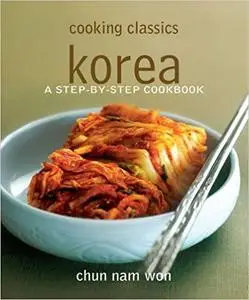 Nam Won Chun, "Cooking Classics: Korea"
English | 2011 | ISBN: 9814302538 | 144 pages | PDF | 3.2 MB
Cooking instructor Won Chun Nam presents 42 authentic recipes that capture the essence and flavours of Korean cuisine in Cooking Classics: Korea. Using simple, concise step-by-step methodology, Chun Nam shows how Korean food can be prepared quickly and easily with fresh, healthy and readily available ingredients even while retaining the intricacies and characteristics of each dish. Learn to prepare different types of kimchi such as Whole Cabbage Kimchi and Cucumber Kimchi, mouth-watering side dishes and appetisers such as Spring Onion Pancake , Seasoned Spinach and Top Shell Salad, well-loved favourites such as Beef and Vegetable Hot Stone Rice, Ginseng Chicken Soup and Stir-fried Spicy Rice Cakes, and many more.