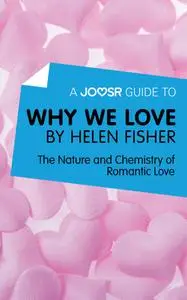 A Joosr Guide to… Why We Love by Helen Fisher: The Nature and Chemistry of Romantic Love by
English | June 20th, 2016 | ISBN: 1785673300 | 23 pages | EPUB | 2.78 MB
In today's fast-paced world, it's tough to find the time to read. But with Joosr guides, you can get the key insights from bestselling non-fiction titles in less than 20 minutes. Whether you want to gain knowledge on the go or find the books you'll love, Joosr's brief and accessible eBook summaries fit into your life. Find out more at joosr.com.
Why do we love? Discover the origins of romantic love, track its journey through time, and learn how the body produces passionate feelings of sexual attraction-and how deeper, more meaningful connections are formed.
Why We Love is a compelling investigation into the evolution of the human desire to love. It investigates which areas of the brain control feelings of love, and why love is a universal human experience. Understand why being in love induces such a euphoric high, as well as why heartbreak causes such intense pain, as you begin to recognize the scientific workings behind this powerful emotion.
You will learn:
• How humans developed the desire to love
• How we choose who we fall in love with
• Why love, like thirst, is a biological drive that we need to survive.