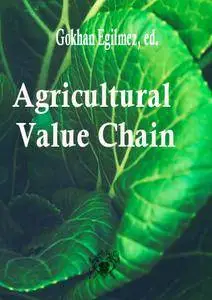 "Agricultural Value Chain" ed. by Gokhan Egilmez
ITExLi | 2018 | ISBN: 1789230071 9781789230079 1789230063 9781789230062 | 269 pages | PDF | 16 MB
This book covers the agricultural value chain issues that occur in different parts of the world and aims to increase our understanding about the sustainable agricultural value chain paradigm.
By reading through these chapters, the readers will witness various interesting, sometimes sad, commonalities among different regions of the world, where smallholder farmers and producers are severely affected by various agricultural policy deficiencies or mistakes and inexistences.
The book consists of 14 chapters, which comprehensively cover over 20 agricultural products from more than 15 different regions of the world. Various qualitative and quantitative research methods are presented including surveys, case studies, interviews, price transmission, risk analysis, and multiagent system technology
Contents
1 Agriculture Value Chain as an Alternative to Increase Better Income's Distribution: The Case of Indonesia
2 SamenMarkt®, a Proposal for Restoring Trust in the Horticultural Fresh Food Market by Using Multi-Agent System Technology
3 Citrus Value Chain(s): A Survey of Pakistan Citrus Industry
4 The Value Aspect of Reallocating Seafood Freight from Road to Sea Transport
5 Agricultural Diversification in Japan
6 Dairy Value Chain In Vietnam: Evidences from Bavi Area
7 Soybean Agribusiness in Argentina (1990-2015): Socio-Economic, Territorial, Environmental, and Political Implications
8 Agricultural Market Integration in the Commonwealth of Independent States: What Are the Main Driving Forces and Challenges?
9 The Struggles of Smallholder Farmers: A Cause of Modern Agricultural Value Chains in South Africa
10 Integration of Small Farmers into Value Chains: Evidence from Eastern Europe and Central Asia
11 Economic Synergies from Tighter Agri-Business and Coal Seam Gas Integration
12 Collaboration in Agri-Value Chains: Building Supplier Production Capabilities for Productivity Gains
13 A Review of Supply Chain Prices Analyses with Emphasis on Perishable Markets
14 Gendered Dimensions of Key Value Chains in Southwestern Morocco
1st true PDF with TOC BookMarkLinks