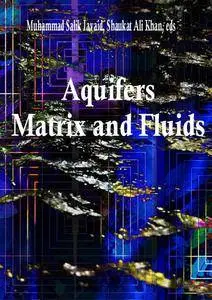 "Aquifers: Matrix and Fluids" ed. by Muhammad Salik Javaid, Shaukat Ali Khan
ITExLi | 2018 | ISBN: 1789234913 9781789234916 1789234905 9781789234909 | 129 pages | PDF | 25 MB
Covering the multifarious facets of aquifers, this book will form an essential and interesting reading for all stakeholders, researchers, engineers, academia, intelligentsia, and the common consumer.
The rock matrix and the fluids contained therein define the aquifer as a whole, the custodian of continuity of life on this planet Earth. Its sustainable development, equitable utilization, quality maintenance, and balanced discharge and recharge are the essential elements to ensure that the next generation receives the resource baton passed on by the current generation. Spanning across the political and regional frontiers, transboundary aquifers have the potential to provide a uniting platform to the participatory nations. The common good of water can be enhanced by synergized research, data and knowledge sharing, joint development ventures, and hazard mitigation.
Contents
1 Introductory Chapter: Aquifers Today and Tomorrow
2 Aquifer, Classification and Characterization
3 Effect of Hydrofracking on Aquifers
4 The Discharge-Storage Relationship and the Long-Term Storage Changes of Southern Taiwan
5 Recharge and Turnover of Groundwater in Coastal Aquifers with Emphasis on Hydrochemistry and Isotopes
6 Hydrochemical Investigation and Quality Assessment of Groundwater in the BouHafna-Haffouz Unconfined Aquifers, Central Tunisia
7 Hydrogeology and Groundwater Geochemistry of the Clastic Aquifer and Its Assessment for Irrigation, Southwest Kuwait
1st true PDF with TOC BookMarkLinks