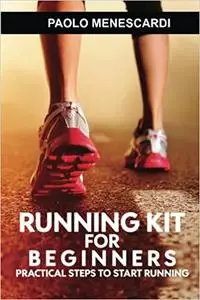 Maya Loan, Paolo Menescardi, "Running kit for Beginners: Practical Steps to Start Running"
English | 2016 | pages: 46 | ISBN: B01ETZ7D88 | EPUB | 0,1 mb
Have you decided to get back in shape and say goodbye to the couch? Are you tired of lifting weights at the gym? Well, the race is the one for you and if you have never done so in your life, here is a guide for how to start running, and some advice to avoid missteps and the most common mistakes. Do not panic: running is the most natural thing in the world and I just want to give you some advice on how to start running in the right way but above all to continue, loving what you do. It will be a blast, believe me!
That the race has considerable psychological and physical benefits is a fact well established: it relieves stress, promotes weight loss, hardens legs and buttocks, strengthens muscles, prevents cardiovascular problems. The race, which is with the journey, is the motor gesture of the human being atavistic, it is considered the most economic activity (in terms of spending money) and easier to carry out. A pair of good shoes, a pair of shorts and a shirt, a road (preferably a wild path), a clock, a dirt path, a park, a half an hour … et voilà, your workout is done.
Proceed by little steps
Do not despair of that: the first results will not come after one ride. Persevere! It will also be a mental exercise to never give up, in all fields of life. And if someone tells you that you are not yet a runner because you failed the "test of the dying man": do not believe him! You are a runner starting from the moment you decide to run. Beware, though, there is another important aspect: at the beginning you will be euphoric, the discharge of endorphins will be amazing, you may run the risk of going out to run every day. And even that's not good. The suggested approach is to follow a precise program, as described and explained in the book.
Do not be scared about distances
Addressing the distance, along with the correct posture for the race, it is one of the main obstacles: you will find it easy to say, panting, "but how ?! I'm broken and I raced only three km? ". As already said, the important thing is to follow a specific training program without scaring. Remember: starting with 3 km may seem a lot and be able to run them will be like a marathon for an experienced runner.
Take awareness
We speak about body and diet. The race, you'll find out soon, greatly increases the awareness of your body. You will learn about your muscles, to find out how changing posture will face less fatigue and avoid accidents, and - most importantly - there is an important ally in the food. can learn all your questions but be careful: start running does not mean eating twice as much as before, simply you do it more consciously. Don't worry, I'm not saying that you will need to stop drinking (beer after a run is a great source of motivation ;) ) or eating what you like, simply try to balance power, transforming it from a simple tool to livelihood to run and live better.
Resist the lure of the couch
The couch (or bed, in the morning) may be your main enemy: after a tiring day anyone would want to sit in front of TV. There are actually many ways to relax and run is certainly the most satisfying, after the initial effort you will realize. It is not easy, I know, but turn the sofa in your "mantra" when you race, you'll enjoy much more when you sit down there. (Even when you are well enough to not feel the need, believe me!)
Do not think about the result, Dream it!
They tell you that you are too out of shape to run? That running does hurt the joints? You're too old to achieve results? Behold, now is bullshit! No one will prevent you, with the right dedication to become a runner
P.S . : if you've read this far you've already passed the first test: you are motivated and, in the end, this is the only thing that really matters. Now run!
My Link