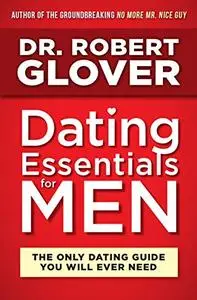 Dr. Robert Glover, "Dating Essentials for Men: The Only Dating Guide You Will Ever Need"
English | ASIN: B07RJ1JXNB | 2019 | 216 pages | EPUB | 0,3 MB
Dating Essentials for Men, by Dr. Robert Glover, the author of the groundbreaking, No More Mr. Nice Guy, is the "un-pickup" guide to dating success.
Are you ready to let go of the games, the tricks, the seduction, the pickup, the negs, the cocky-funny routines, the buying women drinks, the volunteering to help their sister move? Do you want to learn how to create the kind of authentic attraction that naturally brings women to you? If so, Dating Essentials for Men is the only dating guide you will ever need.
Dating Essentials for Men contains the best dating advice for men available. It is overflowing with tested, proven information that will help you:
•Identify your goals for dating – and achieve them.
•Face your fears and soothe your anxiety.
•Develop naturally powerful inner game.
•Talk to women with confidence.
•Test for interest.
•Understand what women want in a man.
•Successfully use online dating.
•Create powerful sexual polarity.
•Stay out of the friend zone.
•Effectively flirt and banter – even with the most attractive women.
•Successfully date after a divorce or break up.
•Pass women's shit tests.
•Send text messages that create instant attraction and arousal.
•Break up with integrity.
It doesn't matter if you want to hook up, create a loving long-term relationship (LTR), get married and have kids, or create a harem filled with "friends with benefits," Dating Essentials for Men will teach you how.
If you struggle with dating, welcome to the club. Dating is not in our human DNA. It has only existed in Western culture for a few generations, and in the East – not even there yet. Nevertheless, we live in a world where dating skills are essential for finding companionship, love, and sex.
98% of all men struggle with the most basic aspects of dating. Fears of doing something wrong, looking foolish, getting rejected, or becoming a #MeToo casualty permeate the minds of most men. These fears typically manifest in playing it safe and doing nothing at all, or at best, in clumsy, ineffective attempts at approach. The all too common outcome of repeated failures leaves many men feeling defective and unlovable.
For the majority of his life, Dr. Glover was one of these guys. He assumed the good women he wanted just weren't interested in him. When he did get a girlfriend, he typically hung on way too long for fear of having to enter the dating world all over again. But that all changed when he became single in his mid-forties.
Dr. Glover decided to approach dating as if it were a scientific experiment. To his surprise, he quickly found that getting women to talk to him, give him their numbers, date him, and have sex with him was nowhere nearly as difficult as he had thought. When women started approaching him, propositioning him for sex, and getting naked on first dates, he often wondered what planet he had landed on.
Many of his clients noticed his dating success and begged him to teach them what he was doing. Dating Essentials for Men arose from those requests. Dr. Glover has since taught thousands of men just like you how to interact confidently with women – get numbers, get laid, get amazing girlfriends, and create great relationships.
As you practice the principles presented in Dating Essentials for Men, you will also be working on essential life skills:
•Overcoming self-limiting beliefs.
•Embracing your masculinity.
•Becoming more honest and authentic.
•Overcoming shyness and social anxiety.
•Letting go of attachment to outcome.
•Becoming more conscious and mindful.
•Developing confidence.
•Overcoming your fear of rejection.
•Creating healthy boundaries.
Are you ready to expand every area of your life – and find love and sex too? Are you ready to start regularly wondering what planet you've landed on? If so, Dating Essentials for Men is the only dating guide you will ever need.