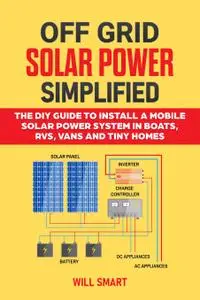 Off Grid Solar Power Simplified: The DIY Guide to Install a Mobile Solar Power System in Boats, RVs, Vans and Tiny Homes by Will Smart
English | 2020 | ASIN: B087N484YX | 114 pages | EPUB, PDF(conv) | 0.1 MB, 0.5 MB
It's time to GENERATE your own ELECTRICITY!
About this book…
Are you ready to start building your incredible solar powered electricity generating system in your own home, boat or RV?
Are you fed up with increasing charges on your electricity bills?
Do you want to create a more environmentally friendly system in your home and reduce your family's carbon footprint?
KEEP READING! This book was written to provide exact and reliable information to get you started on building your own fully functioning and energy efficient solar powered generating system.
For most home users, the electricity grid is the most convenient source of electricity. It appears that a serious blackout or power outage is still in the distant future. However, growing concern about fossil fuel depletion is prompting authorities around the world to use renewable energy sources. Since solar energy is the most commercialized among other renewable energies, it is necessary to know how you, as end-users in residential areas, can benefit from solar energy
Included in this book…
FIND OUT HOW SOLAR ENERGY WORKS
SELECTION OF A SOLAR ENERGY SYSTEM
WHAT IS A SOLAR SYSTEM?
DIY SOLAR PANELS FOR HOME USE: ELIMINATES HIGHER BILLS
DIY SOLAR POWER SYSTEM COMPONENTS
INSTALLATION OF A SOLAR PANEL ON-BOARD YOUR BOAT
SOLAR ENERGY FOR YOUR MOTORHOME
ALTERNATIVE POWER SUPPLY FOR CAMPERS
THINGS TO KNOW ABOUT RV SOLAR POWER