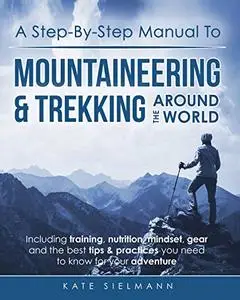 A Step-By-Step Manual To Mountaineering & Trekking Around The World
By Kate Sielmann
English | 2020 | ASIN : B08D6SHQK2 | 195 Pages | PDF | 5.8 MB
This comprehensive mountaineering and trekking book, written by Sports Scientist and seasoned mountaineer Kate Sielmann, covers everything you need to know about high altitude, trekking, hiking and non-technical mountain climbing & mountaineering.
Whether you're looking for a mountaineering essential gear checklist, a mountain specific training plan, a nutrition guide for trekking or tips and tricks to make your high altitude experience that much more fun and successful, then this mountaineering manual will cover all of that and so much more.
Top 3 Reasons To Choose This All-Inclusive Mountaineering & Trekking Guide:
✅ It Is The Must-Have Mountaineering Guide: When it comes to preparing you for your mountain climbing adventure, Kate leaves no stone unturned. By the end of this easy-to-follow mountaineer guide you will be able to embark on your journey looking like and feeling like a pro mountaineer.
✅ Nutrition, Training, Altitude & More: Learn how to train your body, develop the right mindset, and follow the best nutrition plan to make your mountain climbing excursion as safe and successful as possible, as well as how to avoid the common mistakes and prevent injuries.
✅ Find Your Motivation: As an avid mountaineer, Kate has had her fair share of trekking, hiking, and mountain climbing escapades. Her exhilarating stories will leave you inspired and eager to plan your next great adventure.
And That's Not All! You'll Also…
☑️ Learn How To Create Your Own Mountaineering & Trekking Training Plan
☑️ Understand How To Best Buy, Wear & Use Your Gear According To Your Budget Without Sacrificing Quality
☑️ Discover The 7 Most Powerful Techniques To Mentally Prepare Yourself
☑️ Master The Layering System That's Essential To Staying Warm & Dry
☑️ Get Over 220 Expert Tips & Tricks That Will Make All The Difference On Your Adventure