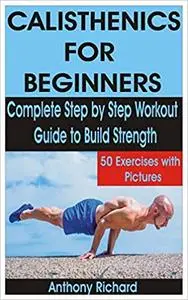 Anthony Richard, "CALISTHENICS FOR BEGINNERS: Complete Step by Step Workout Guide to Build Strength with 50 Exercises and Pictures"
English | ASIN: B08FP7SLH5, B08FTBTCQZ | 2020 | 100 pages | EPUB, AZW3 | 2 + 2 MB
CALISTHENICS FOR BEGINNERS
Complete Step by Step Workout Guide to Build Strength with 50 Exercises and Pictures
What comes to your mind when you think of calisthenics?
It can be defined as a form of training involving the use of bodyweight exercises to help build the body muscles. It includes practices such as push-ups, dips, pull-ups, or even pistol squats. It is usually associated with agile and lean athletes and involves mastering your body and developing body balance, control, strength, flexibility, coordination, mobility etc. And it is usually drafted with the athlete's work-out plans.
In simple terms, calisthenics is a form of art which involves using the body weight to use human power as well as athletic ability to its maximum potential. It helps to master control over moving or lifting your body in space.
In this book you will get
What is calisthenics?
Benefit of calisthenics
How to prepare for calisthenics exercise
Reps and sets of calisthenics
Nutritional and diet advice that will assist you on your calisthenics
How you can achieve flexibility
50 body weight calisthenics exercise explain with pictures
How you can get rid of body fat
It covers how you can move from beginners to intermediate then expert level within a short period
It covers other information that will be of great help to you.
This book is for everyone who wants to master the art of calisthenics, buy yours now.