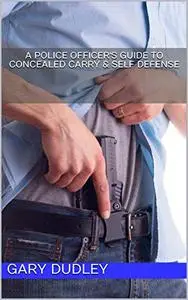 A Police Officer's Guide to Concealed Carry & Self Defense
By Gary Dudley
English | 2020 | ASIN : B08L9TJ9S9 | 102 Pages | EPUB | 3.6 MB
Most people who teach concealed carry classes, or write books about the subject, have never actually confronted a dangerous person or pointed a loaded gun at another human being. They talk and write a lot about it, but they've never actually done it. I believe an ounce of experience is worth a ton of theories and good ideas.
As a police officer and U.S. military veteran, many people ask me about guns, self-defense, and concealed carry. This book is my answer to all those questions.
There are a lot of books out there on this topic. The main difference between this book and many of the others out there is that it's based on real-life experience (mine and others') in confronting dangerous people.
My primary purpose in writing this book is to help you avoid dangerous situations, so you never need to pull your gun. But if you can't avoid it and need to pull your gun, you'll know what to expect and what to do. And just as important as winning the gunfight, I'll also help you know what to do after the shooting and the subsequent police investigation.
This book will teach you how to think correctly before and during high stress, dangerous situations, so you perform correctly.
We do not rise to the occasion; we fall to the level of our preparation and training. Your body can never go where your mind has never been. Think of this book as the software that will run your hardware (your body and the gun in your hand). Your mind is the real weapon. Everything else is just a tool.
If you carry a gun for self-defense - or are thinking about it - you need to read this book. Police officers live in a world most people never know about. This book is a look inside that world and a chance to learn some concepts most people outside of law enforcement never know.
But make no mistake, this isn't written for police officers. This is for you. It's written to help you be more prepared to protect yourself and your loved ones from dangerous, violent people.