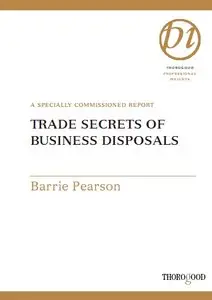 Barrie Pearson - Trade Secrets of Business Disposals
Thorogood Publishing | 2006 | ISBN: 1854183214 | Pages: 172 | PDF | 1.16 MB
"Michael McInerney, CEO Brookdale Healthcare, Hertfordshire, recently successfully sold part of the business, and was advised on the deal by Barrie Pearson. "The first time we sold a business we didn't know Barrie Pearson at the time and we didn't get the best result. The second time around was very different. Barrie's been there so many times: often he'd come up with an idea or a different slant on things that was invaluable. He must have saved us thousands we would otherwise have paid to lawyers and accountants. He was a huge help in organising the 'beauty parade' and advising on the negotiating process; so often buyers will give a price indication way in excess of their true intention and try to lock you into exclusivity - after which they will gradually seek to reduce the purchse price. Barrie steered us safely round all of that and helped us to drive the negotiations according to the timetable we wanted. His advice on how to manage the bidders and how to get to the price we wanted was first class."