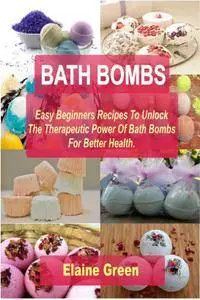 Bath Bombs: Easy Beginners Recipes To Unlock The Therapeutic Power Of Bath Bombs For Better Health by Elaine Green
English | January 6th, 2015 | ASIN: B00RXRJRUW, ISBN: 1310402876 | 80 pages | EPUB | 0.17 MB
Experience A Deeper Dimension Of Pleasurable And Therapeutic Bath Experience
Spice Up Your Bath With These Aromatic Bath Bombs Recipes
Bath time shouldn't be taken lightly. It is another opportunity to relax frail muscles, ease the tension of the day or night and have a wonderful time. However, you cannot partake of these benefits if you immerse yourself in your ordinary, boring bath water.
You need to spice your bath with color, fragrance, luxurious and therapeutic goodies that are uniquely packed in a wide range of bath bombs which are all well presented in this guide book. These fizzy bombs will invigorate, refresh and energize you for your everyday tasks. Using store- bought bath bombs just won't cut it as they are loaded with chemicals and detergents that may adversely affect your skin.
In this book, there are 37 bath bomb recipes for you to make and enjoy. And that's just the beginning. There is also a wealth of clearly- written information and interesting tips for beginners so you can never go wrong. They are all easy to understand and within a short time, you will definitely be making the world best's bath bombs.