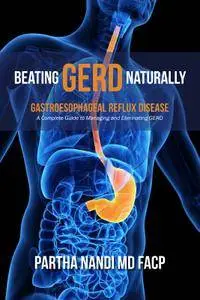 Beating GERD Naturally: A Complete Guide to Managing and Eliminating Gerd by Partha Nandi MD
English | May 1st, 2018 | 67 Pages | EPUB | 2.83 MB
Are you tired of suffering from painful heartburn, acid reflux, indigestion, embarrassing belching, or the frightening feeling of food getting stuck in your throat? If you're one of the 60 million Americans suffering from heartburn or one of the 20 percent affected by GERD, you may be looking for solutions to ease your symptoms and heal your digestive tract.
Or you may be one of an estimated 20 million people who suffer from GERD but doesn't know it. In Beating GERD Naturally, the host of the Emmy award-winning TV show, The Dr. Nandi Show, which reaches over 90 million US households, offers a complete guide to heartburn, acid reflux, and GERD.
A board-certified gastroenterologist, Dr. Partha Nandi has treated thousands of people with this condition and shares his insights on the root causes, treatments, and lifestyle changes that can dramatically reduce symptoms and reverse damage. In his signature passionate, empathetic style, Dr. Nandi introduces you to people who have eliminated heartburn and healed their digestive tract using the simple strategies outlined in this book. You'll meet a woman whose heartburn was so intense it woke her up several times a night, but who became heartburn-free after just two months of following Dr. Nandi's protocol. You'll meet someone who was suffering from symptoms he mistakenly thought were due to allergies that turned out to be GERD. And you'll discover why it can take years and multiple doctor visits for some people to get an accurate diagnosis.
In this book, Dr. Nandi covers the full range of treatment options—including over-the-counter and prescription medications—so you can begin healing and start loving your life again. He busts the myths about prescription medications, which have gotten a bad rap, and explains how to use them for maximum effectiveness and safety.
Most people think heartburn is no big deal, but this book reveals the serious health complications that can arise from untreated GERD, including esophageal cancer. Dr. Nandi details the conditions that can develop and shows you the warning signs to look for.
In Beating GERD Naturally, Dr. Nandi gives you the necessary tools and information to empower you to become a #HealthHero so you can take ownership of your digestive health.
You'll discover:
• The root causes of heartburn, acid reflux, and GERD
• Surprising symptoms you didn't know were signs of GERD
• The five most common myths about the condition
• Why most people suffer for years before seeking help
• Potentially serious health complications if you don't treat the problem
• The medical tests you need to get a diagnosis
• Medications and supplements that may contribute to heartburn and acid reflux
• Why antacids can't cure the condition
• Trigger foods to avoid
• Simple lifestyle changes that can reduce symptoms
• Delicious GERD-friendly recipes you'll love