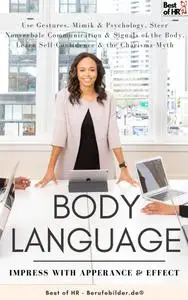 Body Language: Impress with Apperance & Effect: Use Gestures, Mimik & Psychology, Steer Nonverbale Communication & Signals of the Body, Learn Self-Confidence & the Charisma-Myth by Simone Janson
English | June 19th, 2019 | ISBN: 3965960393 | 110 pages | EPUB | 0.36 MB
THIS BOOK OFFERS YOU: Knowledge compact in a quick overview on the topic as well as advice tested in practice. The book helps you to make decisions step by step, to succeed & and contains numerous overviews & checklists to make it easier to read.
CONTENT: To properly use the effect and charismatic appearance to convince other people, many wish. Body language can decisively support rhetoric. After all, anyone who knows how to use his gestures and facial expressions in a targeted manner can also use them successfully to move forward in the profession - many celebrities and politicians already make it happen.
TAILOR-MADE SERVICE! With our detailed special table of contents [see bookpreview], audifiles for listening [on our site] & additional material to the book, which you as a reader can find free of charge on Best of HR – Berufebilder.de® – read more in the book.
Enjoy
My Blog
. No any convert or low quality!