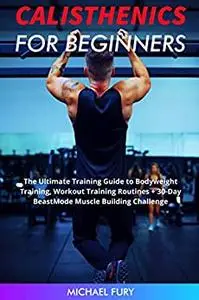 Calisthenics for Beginners: The Ultimate Training Guide to Bodyweight Training, Workout Training Routines + 30-Day BeastMode Muscle Building Plan by Michael Fury
English | 2020 | ISBN: N/A | ASIN: B08HZ8LLSV | 58 pages | AZW3 | 0.19 Mb
Are you looking to lose fat and build muscle, create a lean toned body? If so, a Calisthenics workout is right for you.

THIS BOOK will show you how to build strength, muscle, athleticism, and astounding physical ability using only your bodyweight as the resistance.
This Bookis an essential guide for anyone interested in losing weight, building core strength, and taking their workouts to the next level. Author and trainer Ashley Kalym has designed a comprehensive, easy-to-follow guide to calisthenics using only one's own bodyweight for resistance. Readers will learn how to execute a wide range of exercises such as push-ups, pull-ups, core development movements, and lower-body routines. Also included are easy-to-follow instructions for the planche, the front and back lever, handstands, handstand push-ups, muscle-ups, leg training, and other key exercises.
Keep reading…
…and discover Calisthenics, the the world's most effective training system.
Here are some benefits of Calisthenics:
Fat loss
Minimize injuries to joints, ligaments, and tendons
Increase strength
Exercise anywhere, anytime
Cost free
No need for Gym Memberships or expensive equipments or machines
The word calisthenics comes from ancient Greek. It was created by adding together "kбlos", which means "beauty", and "sthйnos", which means "strength". It can be closely translated as a beauty of strength.
So, calisthenics is the art of generating strength, flexibility, and endurance. This is done by using only your own bodyweight through basic fundamental exercises such as squats, push-ups, squats, planks, pull-ups, dips, leg raises, and so on.
Calisthenics for Beginners
includes:
Training for all levels―Endlessly adjustable and customizable calisthenics workouts meet you where you are and serve your unique fitness goals.
Full-body workouts―This complete, efficient approach to fitness works your whole body with a series of simple movement patterns.
3 weeks training Plan― Calisthenics training plan: for at home & in the park
Variety, versatility, and fun―dynamic exercises featuring the progressions, modifications, and variations you need to keep it interesting, challenging, and engaging.
Calisthenics is one of those activities or hobbies that is on the rise now and recently it gained more momentum thanks to growing interest in street workout.
Feel Free to contact me for book requests, informations or feedbacks.
Without You And Your Support We Can't Continue
Thanks For Buying Premium From My Links For Support