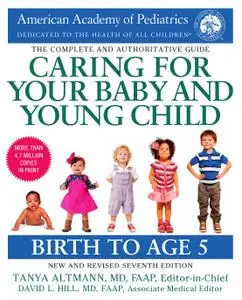 Caring for Your Baby and Young Child: Birth to Age 5, 7th Edition by Tanya Altmann, American Academy of Pediatrics American Academy of Pediatrics, David L Hill
English | October 1st, 2019 | ISBN: 1984817701 | 962 pages | True PDF | 99.92 MB
The seventh edition of Caring for Your Baby and Young Child, Birth to Age 5 is the gold-standard reference guide for parents from the most trusted source available - the 67,000-member American Academy of Pediatrics. Everything on basic childcare is covered in our newly revised and updated top-selling book, with new information on everything including allergies, vaccines, and probiotics. What's the best way to prevent food allergies? How can you get your infant to sleep through the night? How can you keep your child from getting sick? How do you navigate screen time? How do you know if your child has ASD or ADHD, and how can you help? What environmental dangers should you be aware of for your child's health? The answers to these questions - and thousands more - are delivered in a warm, accessible, user-friendly style.
This eBook is divided into two parts: the first part provides everything a parent needs to know to take the best care of their child. The second part describes situations in depth - everything from colds to illnesses, allergies, and even environmental hazards. This is the trusted guide a parent turns to again and again as his or her baby grows.
Enjoy
My Blog
. No any convert or low quality!